Hello birdies!
Here's an update from the desert! After moving  here in the Spring to play professional golf on the Cactus Tour, I have completely fallen in love with state fourty-eight! The competition on the Cactus Tour is intense, and the experience of playing tournaments at this level is great. My next tournament is August 6-8 in Palm Springs, California. Then it's Q School time at the end of August! (Q School is LPGA Qualifying School where you can earn your tour card).
I have been training and practicing daily for the tournaments on my schedule, as well as Qualifying School. Chasing this dream is expensive, so along with playing in events, I decided to pursue one of my other passions on the side- teaching golf! After passing the qualifying exam and taking the Player Ability Test, I am now officially a member of the PGA of America. Part of being a member of the PGA is working for a PGA recognized golf facility. I am an Assistant Golf Professional at a Club in North Scottsdale, which I love. Legend Trail Golf Club is where I practice and play, and have had the opportunity to meet so many amazing people!
It can be confusing when someone says they are a golf professional, because they can be either a touring pro or a teaching pro; or in my case, both. I am a playing professional first, and a teaching professional second. A touring professionals job is to  play and finish well in tournaments, whereas a teaching professionals job is to give lessons. I like to clarify that I am both, because I love both aspects of the game, but playing comes first!
.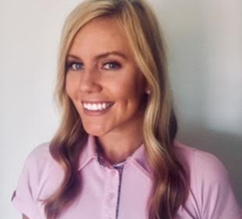 Some days you can find me playing in tournaments, and other days you can find me working at Legend Trail, or giving lessons. I have a busy schedule, but every day is an adventure and that is what I live for! This is an amazing opportunity that I have the privilege of pursuing, and I am thankful every single day that I not only get to play this game, but that I also get to grow the game and share it with others.
So if you're in Scottsdale and you need a lesson, I'm your girl!
Until next time, birdies!
Morgan