You know when you find a winning recipe and you're so excited you want to share it with the whole world? I am about to share with you all the yummiest recipe for protein balls. My grandma found a basic recipe watching a morning show, and my mom took the recipe and ran with it. There are tons of recipes for protein balls out there, but if you have the time and ingredients, I absolutely recommend these because they will change your life.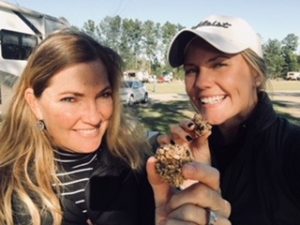 These protein balls are full of nutritious ingredients that keep you full and energized. My mom has been perfecting this recipe for years, and it is safe to say that these can be eaten at any time, and for any meal. My family has been enjoying these sweet little treats for a while now, and I cannot wait for you to try them!
The most important step in every recipe is getting everything prepped and ready. The french term mise en place translates into "everything in its place". This means you have read through the recipe, gotten your equipment out, have all of your ingredients measured, chopped, etc. and that you are ready to start. It's even more fun if all your ingredients are prepped into cute fiestaware bowls.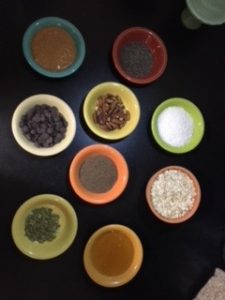 After everything is prepped, you read the recipe one more time for good measure! There is nothing more flustering than getting half way through a recipe and realizing that you missed a step. I thought this would be a good recipe to start with because you do not have to have any culinary expertise to make these!
Mama's Protein Balls
Prep time: 15 minutes
Servings: 30 balls
1 1/2 cups old fashioned oats
1/4 cup finely ground flax seed
1/8 cup of chia seeds
1 Tbsp pepitas
1/2 cup unsweetened* coconut flakes
1/4 cup chopped pecans
1/4 cup chocolate chips (60% cacao bittersweet chips are delish!)
1/3 cup honey
1/2 cup of peanut butter
After you have all your ingredients measured and prepped, the beauty of this recipe is that you just throw it all in the mixer (with the paddle attachment) or just mix it by hand!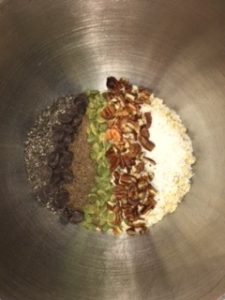 Or something more like this…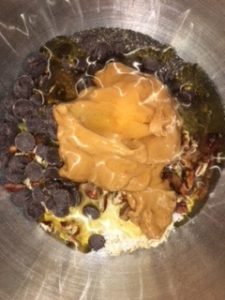 The ingredients in this recipe such as chia seeds and flax seeds have some stellar health benefits. Chia seeds are rich in omega 3 fatty acids which are great for your heart! I read that "chia" means strength in Ancient Mayan, and that they used to eat handfuls of chia seeds before battle. That is also my pre-battle meal, small world. Chia seeds are also a good source of fiber, iron, and calcium! Flax seeds are also high in fiber and low in carbs, which can be helpful when you need a little mid day snack.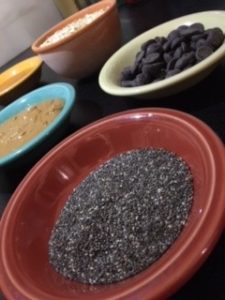 After you have mixed all the ingredients, I use a cookie dough scoop to make sure all the balls are consistent and round!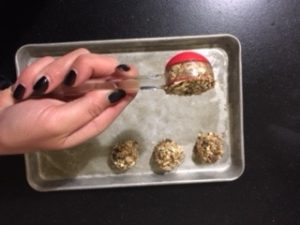 Try to get them in the fridge after they have all been scooped so they can harden in their form, otherwise they will get crumbly! Keep them refrigerated, or freeze them for later!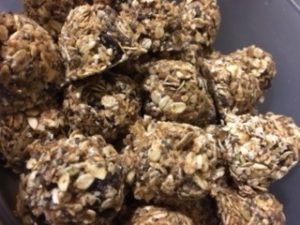 These protein balls are such a treat for breakfast, or a snack, or even for lunch. They are full of flavor and full of ingredients that are great for you. There are so many different ingredients you can add to this recipe (a pinch of salt is always a good idea), but it takes some trial and error to find the right consistency so that they stick together and don't crumble. Feel free to take the recipe and run with it, just like my mama!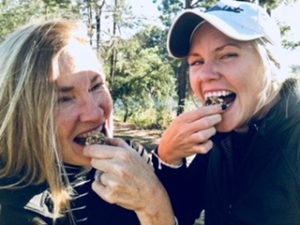 'Til next time birdies!