If you are a sucker for lemon like I am, this recipe is going to become a staple in your dessert rotation (do other people have dessert rotations? No? Okay.) The best part is, you don't have to blow your diet or feel guilty to enjoy this sweet treat!
I found a recipe for lemon cheesecake that is low carb and keto friendly. If you're wondering what keto is, this website explains it simply. The magic behind the keto diet is that your body re-programs your metabolism so that you can burn fat for fuel.
I live a low carb life, and I love food. So I am always experimenting with different recipes to find healthier variations. This recipe hits all the right notes and doesn't break the carb bank. So many desserts leave you feeling bloated and tired because they are packed with carbohydrates and sugar. This cheesecake is such a win, and you could serve it to people who aren't low-carbing and I'm positive they would enjoy it as well.
Keto Lemon Cheesecake

Print recipe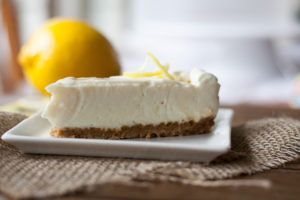 | | |
| --- | --- |
| Serves | 8 |
| Prep time | 20 minutes |
| Cook time | 8 minutes |
| Total time | 28 minutes |
| Dietary | Diabetic |
| Meal type | Dessert |
| Occasion | Casual Party |
| Website | motherthyme.com |
This delicious cheesecake is carb friendly and easy to make. Low calorie and low carb fits the keto diet perfectly.
Ingredients
1 1/4 cup almond flour
3 tablespoons melted butter
1 tablespoon erythritol
8oz softened cream cheese
1 cup heavy whipping cream
1/2 cup fresh lemon juice
.3oz sugar free lemon jello
1 teaspoon lemon zest
Directions
CRUST
Step 1
Preheat oven to 350 degrees. Grease a spring form or baking pan with butter or cooking spray.
Step 2
Combine almond flour, butter, and erythritol until crumbly. Press into the springform pan and bake for 8-10 minutes.
Step 3
Let the crust cool completely to room temperature.
FILLING
Step 4
With the whisk attachment on the mixer, whip the cream cheese until it is smooth.
Step 5
Add in heavy cream and whisk on high until soft peaks form.
Step 6
Reduce mixing speed and add jello packet, lemon juice, and lemon zest.
Step 7
Spread the filling over the cooled crust and chill in refrigerator for 2-3 hours. The longer it can chill, the more the flavors marry.
I used a Pinterest recipe from Mother Thyme as a starting point and made some minor tweaks to the original that I think really knocked this out of the park.
Don't be afraid to add things, or make substitutions to your recipes. Be brave and bold, especially where flavor is concerned! Life is too short to eat mediocre lemon cheesecake. I hope you all enjoy this recipe and I can't wait to share the next one with you!
Until next time, birdies!